Perfection, research and innovation in the world of premium labels
Technological innovation, aesthetic research and respect for the environment are the three pillars that have always best identified our reality. In Sanfaustino Label we create premium labels that express our desire for perfection and attention to the detail, with the aim of ensuring the best products and satisfy every need.
Our nobilities
Technology , investment and vision allowed us to create true artworks.
Combined offset printing
To make the texture of the paper the real protagonist
This is the best solution for all embossed finish papers to achieve prints of the highest quality with an exceptional color definition.
Screen printing
An ancient process, revisited in a modern key
Thanks to the possibility of spacing in a wide range of inks, it's the most widely used technology for creating excellent decorations and finishes.
Full Metal and nobilities
Authentic and unique labels
Emerging is fundamental: perfecting the detail of the line, the technique and the quality of the materials are the best demonstration of what we can offer.
Special reliefs and micro-incisions
A technology to communicate innovation and added value
Texture, repeated designs, logos, words or graphics with optical refraction effects which, when the viewing angle changes, create unique results.
Special processes
A strict control to ensure the highest quality
There are no limitations for us anymore! We develop special nobilities, partial removals and different combinations of materials, operating a scrupulous monitoring.
Digital and flexo printing
Optimal technologies to bring your projects to life
We recommend the best technologies: from flexography, suitable for large productions, to digitalprinting, increasingly essential in the world of wine.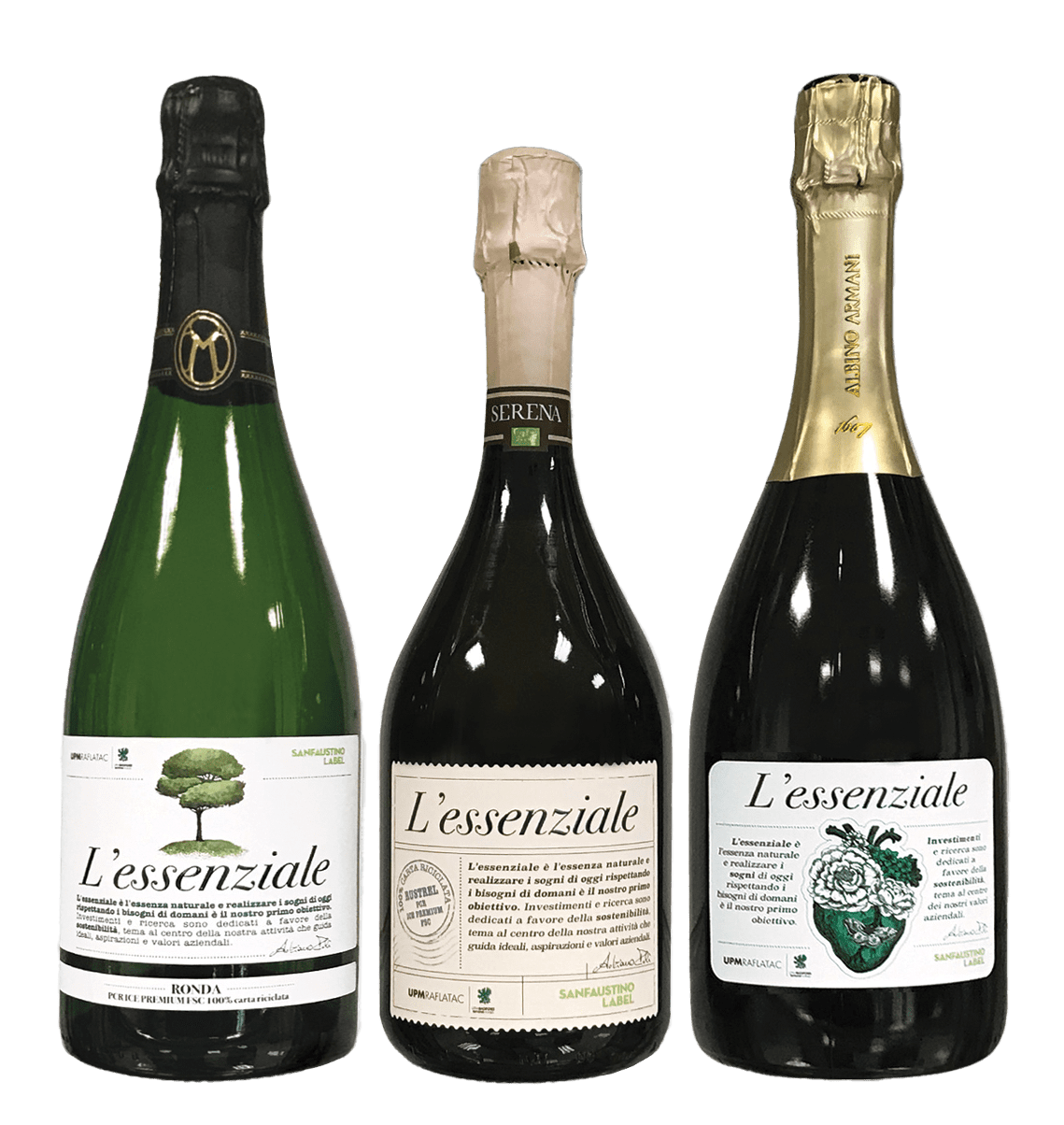 Green solutions to reduce, recover and recycle
The collection, recycling and reuse of raw materials are an integral part of our work and our green philosophy. For this reason, at Sanfaustino Label, we make conscious choices and use sustainable papers and synthetics that are obtained from recovery and require less environmental impact.
Cantoalto: a print management platform
Cantoalto is the website of Sanfaustino Label that allows to manage in a simple and fast way the tracking of the entire production chain. Thanks to our next-generation software, companies will be able to view their drafts, labels and packaging online through an electronicarchive. In just a few minutes, you'll be able to check orders and equipments, view purchased custom materials, monitor procurement processes, get a quote, and place an order.
Our certifications
In Sanfaustino Wine&Spirits we work in absolute respect of the highest standards and strict quality policies.
Certificate UNI EN ISO 9001 - n.1012
Certificate UNI EN ISO 14001 – n.189
Certificate UNI ISO 45001 – n.063
BRC Global Standard Packaging and packaging materials – n.023
EcoVadis Sustainability Rating Certificate
Chain-of-Custody Management. Certificate ICILA-COC-002987
We are always at your disposal
Realize your ideas with us
Address
Via Valenca, no.15
Castrezzato, BS 25030